The Madhouse Run
Information on Routes 11, 12, 13, 14 & 15
 
The inaugural of the 11,12,13,14, & 15 services of Southampton Corporation Transport can be traced back to the abandonment of the tramway system in Southampton on 31st December 1949.
By the autumn of 1948 sufficient numbers of new Guy Arab III buses had arrived to make possible the second stage of the tram withdrawal programme. Service 1, with its long and circuitous route from Royal Pier to the Docks, via High Street, Above Bar, London Road, The Avenue, Burgess Road, Swaythling, Portswood, Lodge Road, The Avenue, London Road, Above Bar and High Street, was the one affected. It was decided, as an interim measure, that the route should be split at Swaythling, and only the section from Swaythling and Lodge Road to the Docks withdrawn, and replaced by buses. For the time being trams would continue to operate from Swaythling to Royal Pier, via Above Bar and High Street.  
The section was withdrawn on 30
th
October 1948, and replaced by several new bus services the following day. The bus service which replaced the tram route almost exactly was the number 11. This took over the number left vacant some months previously when the Houndwell-Kathleen Road-Wright's Hill service had been re-numbered 5A. The new Service 11 operated from Swaythling, via Portswood, Lodge Road and Above Bar to the Docks and returned to Swaythling via St. Mary's. Service 11A was introduced as an evenings, Saturday afternoons and Sundays only service, and ran from Swaythling to Portswood, Lodge Road, Above Bar, Pound Tree Road and South Front, returning to Swaythling via St. Mary's. Service 12 was altered so that after reaching the Docks it returned via High Street, Lodge Road and Portswood. This now produced a complicated route best described as Docks - Houndwell - Northam - Bullar Road - Portswood - St Mary's - Docks and returning via High Street, Above Bar, Lodge Road, Portswood, Bullar Road and Houndwell, to the Docks. Service 12A terminated at Bullar Road and returned via St. Mary's to the Docks. The reason for the alteration to Service 12 was to make possible the operation of both services in opposite directions over the same route.  
Another new service was also introduced, which ran from Houndwell, via Northam, Bullar Road, Portswood, Bevois Valley and St. Mary's to South Front; this was numbered Service 13. Taking these in numerical order, Service 11 was diverted to pass along the "flower pot" Roads at Bassett, while the return section through St. Mary's was withdrawn. Service 11A ran as before to Swaythling, but then went on to Burgess Road. Service 13 was completely re-routed, running from Swaythling to the Docks, via Portswood and St. Mary's. A short service, numbered 13A, ran to either Kingsland Square, or in the opposite direction to Swaythling, then to Burgess Road. Service 14 was a completely new one from the Docks to Bullar Road, via High Street, Above Bar, Lodge Road and Portswood. This was in fact the extended section of Service 12, now becoming a route in its own right, while Service 12 was cut back to run via St. Mary's, as previously. Service 14A operated to Pound Tree Road only. Service 15 was a new route operating over the original tram route, and running from Swaythling, via Bassett, The Avenue, and High Street to Royal Pier, while Service 15A ran to Swaythling and Burgess Road. Service 10 was cut back to Swaythling and ceased to run through the 'flower pot' roads; it was replaced by Services 11, 13 and 15, Service 10 now running to South Stoneham Cemetery and Allington Lane.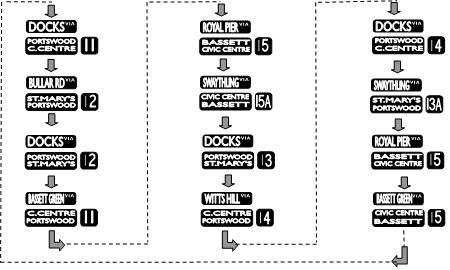 On the 13
th
June 1949, Service 10 was re-routed so that at certain times it ran from Swaythling direct to Portswood, via Portswood Road. The section along Highfield Road, and a diversion via Brookvale Road were withdrawn and replaced by a daytime shuttle service, number 10A, which ran from Furzedown Road to Portswood, via Highfield Lane; it then turned in the depot and returned via St Denys Road. This route had a flat fare of 1d.  
On 8
th
September 1956, Service 14 was extended from Bullar Road, along Cobden Avenue and Mousehole Lane to Witts Hill. The actual terminus was the Service 6 bus stop, at the bottom of the hill, but buses had to travel part way up it in order to reverse for the return journey to town. Great care had to be exercised in this manoeuvre, and on more than one occasion a driver, miscalculating the steepness of the hill, ran into the back of a bus already waiting at the terminus. Despite its operating difficulties, the extension proved very useful for people living in the area, as it offered a much quicker service to the Triangle and Portswood, as well as a direct service to the Docks. This extension to Service 14 also relieved some of the pressure on Services 4 and 6, by siphoning off the Portswood bound passengers, thus enabling passengers travelling to Shirley and Millbrook more chance of obtaining seats, particularly in peak periods.  
On 3
rd
May 1964, Service 14 to Witts Hill had its frequency increased and was extended via Mousehole Lane, Townhill Way and Meggeson Avenue, to the new estate at Townhill Park. This was a very recently-built estate and, until the extension of Service 14, had no public transport facilities at all. The extension also removed the necessity for the very awkward reverse that buses had previously had to make at the bottom of Witts Hill. On the same date Service 10 was re-routed on its inward journey to travel via Bassett Green Road, while Service 12 was adjusted to conform with the large and rather complex Bullar Road gyratory traffic system.  
On 3
rd
July 1967 there were considerable alterations to many routes following the introduction of new one-way streets, and parking restrictions in the central area of the City. Service 12 and 13 travelled over the existing route to Terminus Terrace, but then ran via Platform Road to High Street; 11 and 14 operated from High Street via Briton Street, Queen's Terrace, Terminus Terrace, Bernard Street and Threefield Lane to Marsh Lane. New terminal points were established in Platform Road, close to the Dock Gates, for Services 12 and 13, and in Queen's Terrace, close to the junction with Terminus Terrace, for Services 11 and 14. On 3
rd
October 1971 several routes were altered to take full advantage of the new bus area at Vincent's Walk. From that date Service 11 (Royal Pier to Swaythling) was extended to the Docks at peak periods, but during the day, from Monday to Saturday, the terminal point remained Royal Pier; after 7.00pm. and on Sundays it now terminated at Vincent's Walk. At the other end of the route, after leaving Swaythling buses now travelled via Burgess Road and Violet Road to terminate at Glen Eyre Schools, but on returning to Swaythling were diverted to travel via Aster Road and Honeysuckle Road, enabling both Services 11 and 13 to use the same stop at Swaythling. Service 12 (Docks to Bullar Road) was diverted from the declining St. Mary's area, running instead from Six Dials via New Road, Above Bar Street and Vincent's Walk. This change means that there was now a direct service from the City Centre to the Royal South Hants Hospital. At peak periods this service was also extended to the Docks. Service 13 (Docks to Swaythling) was extended to Bassett Green, where the buses changed number, running back to the City as Service 15. This service continued to operate through St. Mary's. Increased frequencies were introduced on Services 14 (Docks to Townhill Park) and 15 (City to Bassett Green), but Service 15A (City Centre to Swaythling, via Burgess Road) was withdrawn.  
To conclude the list of reorganisations affected during this period, mention must be made of a new service which was introduced to provide a direct link from the City Centre to The Common, Portswood, the University and Glen Eyre. It was numbered 11A and, in fact, formed a joint loop with Service 11. The route went from Vincent's Walk, via Above Bar Street, London Road, The Avenue (for the Zoo), Winn Road, Brookvale Road, Portswood, Shaftesbury Avenue, Welbeck Avenue, the University, Stile Inn, Burgess Road and Glen Eyre Road to Glen Eyre Schools. This development should have come into operation on 3
rd
October, along with the other changes in the Portswood area, but it became the subject of a political row in the City Council and a Minority Order was placed on its introduction. This meant that it had to be debated by the full Council before it could begin and temporary arrangements had to be made, as the formal "Go-Ahead" was only withdrawn two days before the original planned commencement date. In actuality the route started on 17
th
October.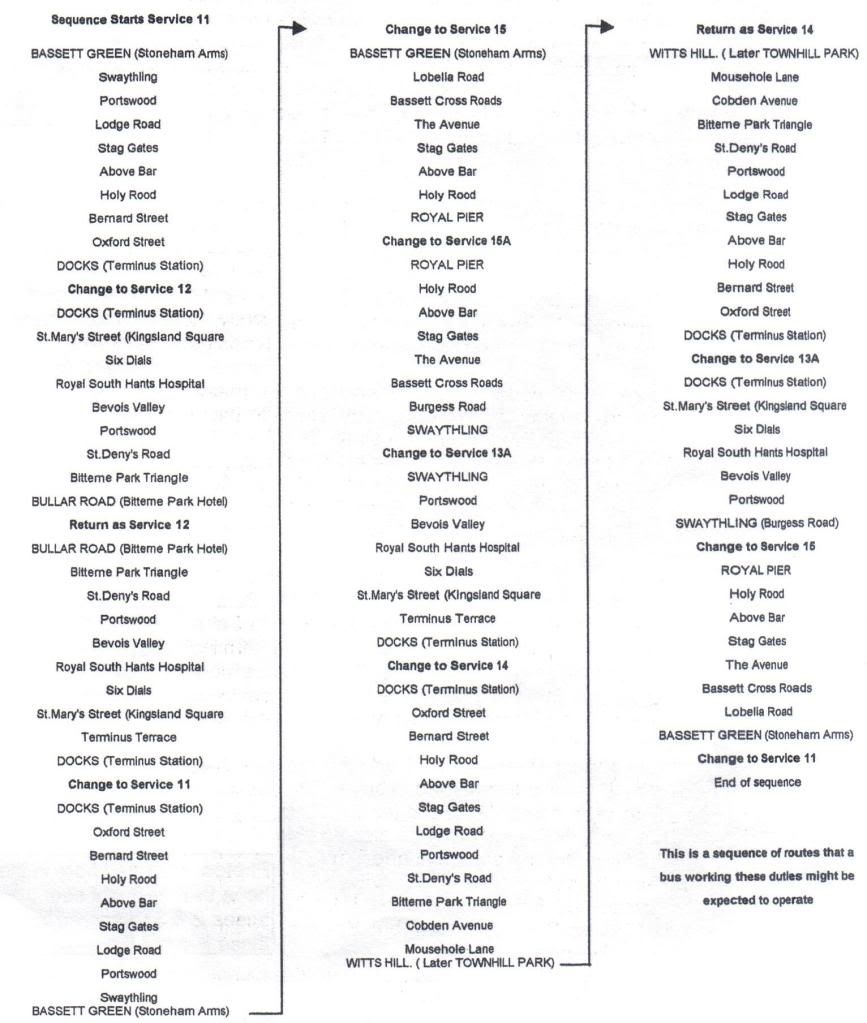 Thanks to Terry Knappett for providing this information about The Madhouse Run.