Solent Blue Line
In 1987, as a result of deregulation, Isle of Wight-based bus company Southern Vectis launched Solent Blue Line in Southampton, which was set to compete with Southampton Citybus. Operating under the name Musterphantom Limited but trading as Solent Blue Line, it was formed by two ex-employees of Southampton Citybus, John Chadwick and Peter Shelley. The company was started with capital of £100,000, of which £75,000 was put up by Southern Vectis Omnibus Company Ltd. Southern Vectis also set up Badger Vectis in September 1987 with Badgerline, which operated in Poole, Dorset to compete against Wilts and Dorset but this venture only lasted till March 1988.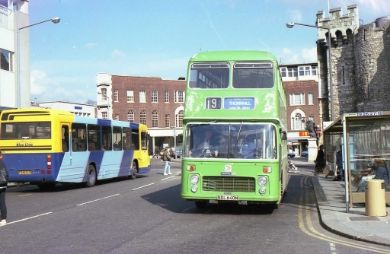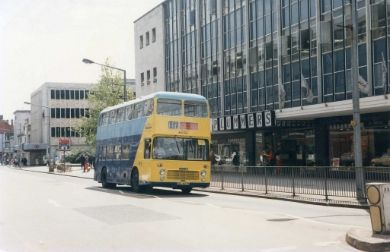 At first Solent Blue Line used older out-of-use Southern Vectis buses that were repainted in Solent Blue Line livery, and some of these were old Bristol VRT's. Services started to operate in Southampton on 25
th
May 1987, with three routes, crossing through the city centre, and each of these were conductor-operated. At first there were based at Lorraine Auto Park, Anglesea Terrace. The three routes were:  
140: Ocean Village – Above Bar Street – Portswood – Bitterne Park – Townhill Farm
160: Ocean Village – Above Bar Street – Central Station – Shirley – Millbrook
170: Weston Estate – Woolston – Above Bar Street – Central Station – Shirley – Millbrook  
These routes were in competition with Southampton Citybus, who later brought in some ex-London AEC Routemasters; these were also conductor-operated, though all Citybus vehicles had previously been one man operated since 1981. The company was a wholly owned subsidiary of Southern Vectis.  
Stagecoach had brought Hampshire Bus from the National Bus Company, which including the former Hants & Dorset operation, Southampton bus station and the depot in Southampton and Eastleigh. Stagecoach had already closed the bus station and depot and sold the site for redevelopment. Stagecoach approached Solent Blue Line with a view to selling the "South Hants" part of the business, based in Eastleigh and Southampton, including the vehicles. A deal was concluded on 4
th
October 1987. Stagecoach then retreated north of an imaginary line drawn just south of Winchester. Just before the deal with Stagecoach, Solent Blue Line had acquired the business and vehicles of Basil Williams' Hants & Sussex operation.  
The fleet had essentially risen overnight from just sixteen ageing VRT`s, to over 115 vehicles. The Hants & Sussex vehicles were all sold on quickly, and some eventually ended up back with their previous owner. Some of the newer VRT's were returned to Stagecoach, whilst others vehicles moved onwards to United Counties Omnibus in Northamptonshire. Southern Vectis' fleet also gained some VRT's. A number of buses were sold to Trimdown Motor Services Ltd who brought Bristol LH6L's and some of the Leyland National's were also disposed of. In January 1988 the fleet had settled to around 85 vehicles.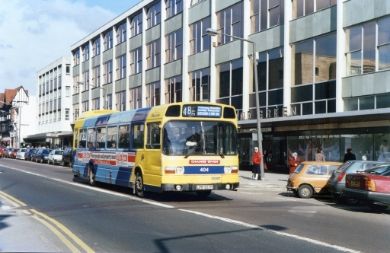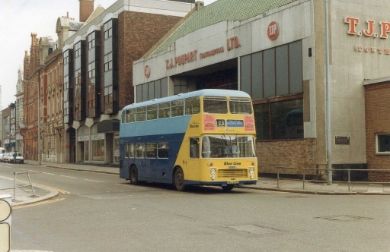 Over the years new vehicles were added to the fleet, these being minibuses for the Eastleigh to Winchester service and Leyland Olympians for the Southampton to Winchester service. By 1993, about one third of the fleet had been bought new. Solent Blue Line also franchised services out and these were run by Marchwood Motorways from Totton and Brijan Tours, who ran the buses in fleet livery. The services that were run under franchise were included in the timetable booklets and ticketing systems. These companies paid Solent Blue Line a proportion of the revenue from these franchised services. In late 1998, three Leyland Olympians with East Lancs. bodywork were purchased from Wilts & Dorset, originally working in Plymouth, where they were new in 1982.  
There were considerable network expansions over the years until in 2003. When the network underwent a major change, a new brand name of 'Bluestar' was introduced, which was only used on premier services that launched in 2004. Solent Blue Line, along with Southern Vectis, were purchased by the Go-Ahead Group in 2008 and subsequently the head office functions of the company were consolidated with those of the other Go South Coast companies, Southern Vectis and Wilts & Dorset, in Poole. On 24
th
October 2006, Solent Blue Line acquired Marchwood Motorways, who had previously provided services to Solent Blue Line under franchise.  
Below is a network map from Summer 2003, just before the major changes to the network.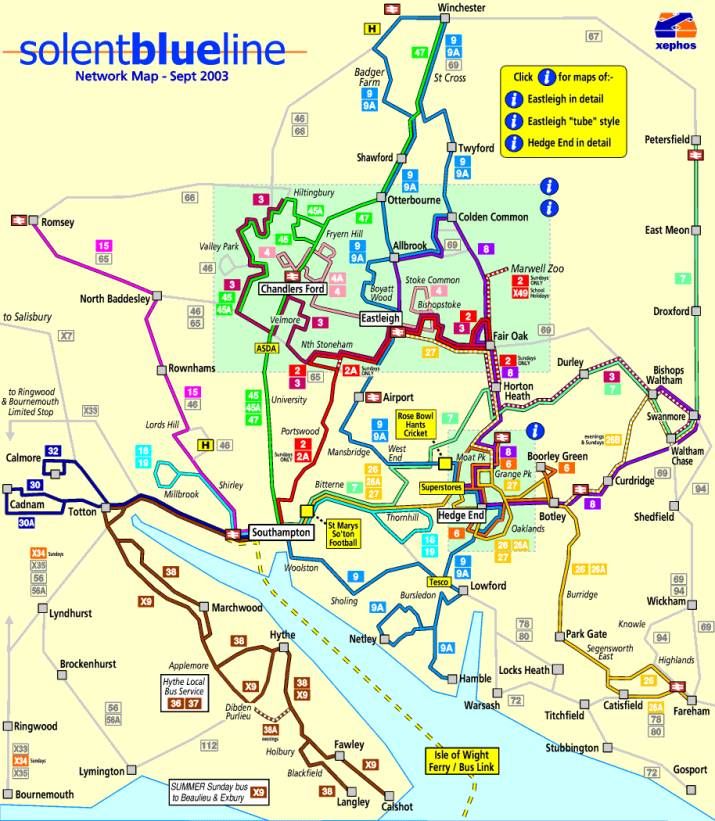 Thanks to Roland of "Reynardbizzar Flickr" for use of some of the photos.