Horse-Drawn transport
Street transport in Southampton begins with Horse-drawn transport in 1887 when Southampton Tramways Company bought twelve horse omnibuses from Andrews of Cardiff. The first route that the horses were used on were from Portswood to St. Mary's. This route ran until 3rd June 1901. On 30th June 1898 Southampton Corporation bought the Southampton Tramways Company with the long term plan of having an electrified tram system. In March 1899, a new service from the Clock Tower to Bitterne Park was started, and this service ran until it was replaced with an electric tramway on 30th August 1902.
 
Further routes were added to the system; them being from The Docks to the Avenue, and this was extended to Highfield Depot in May 1899. A temporary service was introduced from Kingston Road to Shirley, and this was to cover the work being carried out on the electrification of the Shirley route. Other routes added in 1900 were between Four Post Hill and Tanners Brook, though this service only lasted eight months. Similar services were provided from Spring Road to Stag Gates via Avenue Road, Rose Road, Oxford Road and Padwell Road.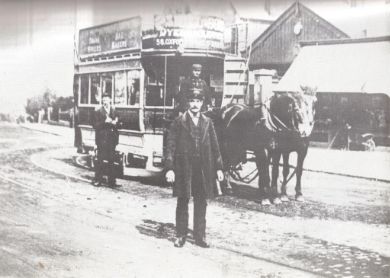 The Corporation did consider two further possible routes; these being from The Docks to Northam via Marine Parade, and from Portswood to the Docks via Bevois Hill, Bevois Mount and Mount Pleasant, but these routes did not materialise as the horse-drawn era was over and the tramway replaced most of the routes and other parts were abandoned. By 1902 all the omnibuses and horses were sold by the Corporation.
The history of Southampton Corporation Tramway can be found at Here.