Floating Bridge
Crossing the River Itchen between the western and eastern sides of Southampton dates back to the 1600's when the journey was carried out by fishermen. In 1833 plans were being drawn up for a lower crossing to rival the new Northam toll bridge which had opened in the late 1700's. On August 30th 1833 the Itchen Bridge Company was formed and raises £30,000, and had an original plan for a swing bridge just a few yards south of where for centuries the fisherman had crossed.
The plan for the swing bridge was objected by the Admiralty who said that the seventeen arches across the river would create a major obstruction to navigation. The company therefore looked at new ideas on how to make the Itchen navigable. With great interest they looked at a steam-driven floating bridge which had just been invented by James Meadows Rendel from Plymouth. July 25th 1834 saw the company adopt Rendel's invention.
After negotiation over roads and also with difficulties with the bridge, the bridge finally opened on November 23rd 1836. The first being two single-cylinder beam engines with wooden-hulls. This had a central cabin containing the boiler and engines flanked by twin roadways. Initially there was one pair of chains across the river, both being used for propulsion. The latter had cross-battens to give horses a better footing. It was built by Richard Hocking of Stonehouse and was used in service until 1854.
In December 1849 the Floating Bridge Company declared bankruptcy for a second time; the first being in 1838. This time the bridge fell silent for two years. With the introduction of the lighter iron-hulled ferry No 2 in 1854, only the north chain was used for propulsion, the second chain being for guidance only. No 2 had an iron hull with a central roadway with two side sponsons. The boiler was situated in one sponson and the engine in the other, which was a 2-cylinder grasshopper engine. No 2 was built by local man Joseph Hodgkinson, who also built No 3 in 1862. No 2 was withdrawn in 1896 and No 3 was withdrawn in 1900. Initially there was only one ferry built and owned by the Floating Bridge Company but this increased to two in 1881 with the introduction of No 3. Originally the ferries were lit by oil lamps. Ferry No 3 was fitted with gas lamps from new, but reverted to oil in 1869.
In 1879 a pedestrian-only bridge was introduced, followed by a second in 1881 to service the growing workmen traffic heading for the Thornycroft shipyard just downstream from the crossing. By 1880, the ferry was still using chains to draw itself over the Itchen. They were replaced by cables between 1878 and 1887. This necessitated the installation of a second set of chains to allow both types of bridge to operate simultaneously. The pedestrian-only craft was built by Day, Summers & Co of Northam and the first was named 'Woolston' and was a steam launch designed for pedestrian traffic. She proved to be unsuitable in practice owing to a number of accidents to passengers while boarding and disembarking. Another foot passenger-only ferry was built in 1879; that being No 5, which again was built by Day, Summers & Co of Northam. It was withdrawn in 1901. No 6, which was a sister to No 5, was built in 1881 and withdrawn also in 1901.
No. 7 was built in 1892 by Day, Summers and Co with it being slightly smaller than the earlier carriage bridges. Each of the ropes weighed nearly 2 tons and had an average lifespan of nine months in normal use. Each end was attached to a short length of chain that was connected to counterbalance weights housed in chain wells to maintain tension. As the ropes stretched with use, chain links were removed to compensate. No 7 was withdrawn after sinking on 8th March 1928, after a collision with the tug 'Fawley', but it was salvaged. It wasn't used again and ended its days as a pontoon at the Supermarine works.
Day, Summers and Co built No 8 in 1896 and had 1 steam-powered 2 cylinder compounds and overhead grasshopper beam engine. In the early 20th century, electric lights were fitted to No 8, powered by a steam-driven dynamo. This was replaced by a Lister diesel in 1949. Mordey Carney & Co of Woolston built their first ferry in 1900; this being No 9, which had one steam-powered and two cylinder compound centre-pivot beam engines. In 1928 No 10 entered service in 1928, and was built in a hurry to replace No 7, having been completed in less than six months. No 10 was the last steam-powered ferry. In 1934 the floating bridges were sold to Southampton Corporation.
In 1962 J I Thorneycroft of Woolston built No 11; this being the first ferry to be powered by diesel engines; these being 2 159 hp Leyland Atlanta bus engines. No 11 was joined by No 12 two years later in 1964 and the last ferry No 14 entered service in 1967. No 14 was built in Portsmouth by Vosper Thorneycroft. By 1977, the ferries were operating side by side during the day and reducing to a single ferry late in the evening. There was a bus terminus at either side of the crossing, connecting foot passengers with the centre of Southampton and the road to Portsmouth.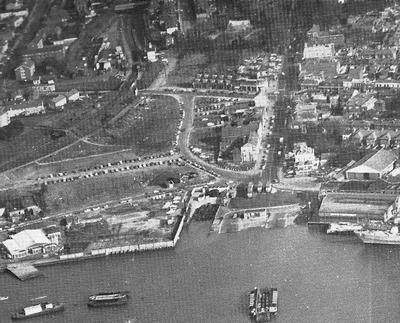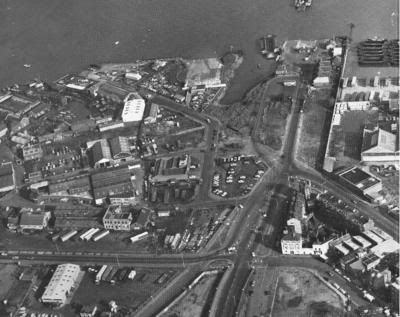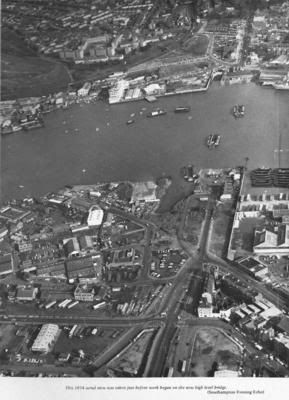 After the opening of the Itchen Bridge on 13th July 1977 all of the remaining ferries were withdrawn from service, with one of the diesel ferries being moored at the Woolston slipway as a nightclub somewhat aptly named "Floaters" for some years after withdrawal. Another of the ferries still survives today as The Ferry Restaurant in Elephant Boatyard in Bursledon near Southampton, where it is a popular restaurant on the River Hamble.

© Copyright Reynardbizzar
An evocative shot of Woolston taken from the Itchen Bridge on July 12
th
1987. The burnt-out remains of the former floating-bridge and the derelict bus terminal made redundant on the opening of the bridge on 13
th
July 1977, along with the erstwhile Hants and Dorset bus depot with the blue doors in the middle - right. The public house in the middle still stands, but most of what you see here in the foreground has been redeveloped into housing as can be seen in the photo.
Information about The Itchen Bridge and it's Association with Transport can be found Here.