Southampton Citybus
In 1986, as a result of deregulation an 'arms-length' limited company was formed on the 26th of October 1986 in the name of Southampton Citybus and the coat of arms of the City of Southampton was removed, and replaced with the new branding. Southampton Citybus operated a fleet of around 150 vehicles, and a small coaching division named Red Ensign.
 
In May 1987, following the Transport Act 1985 and the deregulation of the bus market, it faced aggressive competition from Isle of Wight based Bus Company Southern Vectis, which started Solent Blue Line in 1987 as a bid to expand onto the mainland, competing on some of the same major routes as Citybus. They then responded with a fleet of former London Transport Routemasters and re-introduced conductors. The Routemasters were withdrawn in 1988.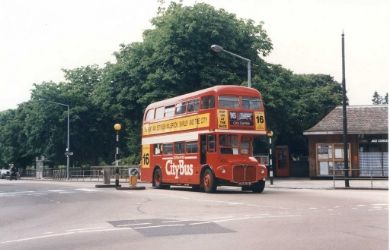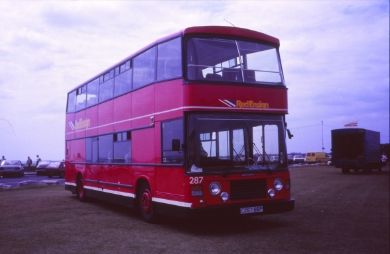 Southampton Citybus and Badgerline jointly established a new company, Red Admiral, to operate bus services in the Portsmouth area, initially using minibuses. The name of the company was Quayshelfco 179, trading as Red Admiral, but this was changed to Pathfinder UK Ltd. They both had an equal stake in Red Admiral. Services began in December 1987, based at Venture Industrial Estate, Hilsea.  
Southampton Citybus inaugurated a new coaching division at the beginning of 1988, called Red Ensign. This used dual purpose, coach seated Leyland Olympians, and an open top Leyland Atlantean, used for sight-seeing work, all painted in a new livery, of all over red with black skirts, white stripes, with Red Ensign lettering and logos. Portsmouth City Council, as owners of Portsmouth City Transport Ltd, decided to privatise the company. Tenders were invited, and the successful bidder was Southern Vectis, from the Isle of Wight. They were due to take it over in April 1988, but could not agree terms and the sale fell through. On 1
st
June 1988, Southampton Citybus in a joint bid by Portsmouth Corporation Transport employees bought Portsmouth Corporation Transport who then renamed it Portsmouth Citybus. Southampton Citybus had a 75% share in the new company. The Red Admiral operation was acquired wholly by Southampton CityBus in July 1988.  
The coaching activities of Portsmouth Citybus were marketed under the Red Ensign name from October 1989, including a Leyland Leopard and two open-top Leyland Atlanteans, repainted into Red Ensign colours and logos. Southampton Citybus sold its share in Portsmouth Citybus and Red Admiral to Stagecoach in 24
th
October 1989, but this deal was referred to the Monopolies & Mergers Commission, who decided that there had been no adverse effects from the merger between Southdown and Portsmouth Citybus. Stagecoach therefore sold its Portsmouth Citybus and Red Admiral operations to Harry Blundred`s Transit Holdings Group early in 1991.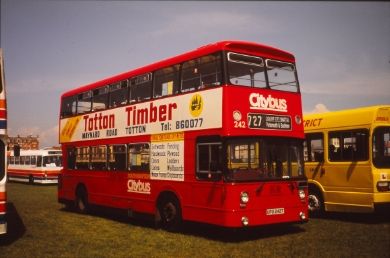 In 1992, the buses all were named after a large variety of vessels with Southampton connections with 191 - HTR 561P carrying the name 'Achille Lauro'. A few Leyland Atlanteans were rebuilt to become 'Atlantean Sprints' single deckers. Southampton City Council owned Southampton Citybus until 21
st
December 1993 when it was then bought by its employees for around £3 million. Following this Southampton Citybus introduced sixteen natural gas-powered buses into regular service, which at the time was the largest such fleet in the UK. Over the years much of the fleet of 160 buses was replaced. Southampton Citybus was owned by its employees until 28
th
July 1997 when it was purchased by First Group. At first for a brief period they kept the name but soon changed it to First Southampton. Today it is now a part of First Hampshire & Dorset.