LOW 217
SCT No: 71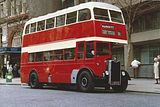 Chassis: Guy Arab III
Chassis No: FD71962
Body: Park Royal H30/26R
Body No: 33570
Engine: Gardner 6LW
Date into service: 1st September 1954
This bus entered service in September 1954, and was numerically the third from last of 150 similar vehicles to enter service with Southampton Corporation Transport Department. The first one having been delivered in January 1948 as part of an order for tramway replacement vehicles.
In August 1957 the bus was, along with others of the type were fitted with a heating and ventilation system which were developed by Wing Commander Cave-Brown-Cave Who was Professor of Engineering at Southampton University. The system proved successful, and was not removed from 71 until October 1969. 71 was the last Guy Arab to operate in the Southampton fleet and was last used by the department on a shuttle service between Shirley and at the time new Lordshill Centre.
It was withdrawn from stage carriage service and was subsequently licensed as a private vehicle in June 1975 and later preserved by the transport department until 24th October 1986 (deregulation) when 71 was handed over completely to Southampton City Council. This bus is still a corporation bus as it is still owned by Southampton City Council together with 64 – FTR 511 an open top version of this one. Similar vehicles 167 – FTR 514 & 222 - GTR 484, have also been privately preserved since withdrawal from service in 1971.
Line drawing of No. 71  ~  Bus Profile for No. 71  ~  Destination Blind