FTR 511
SCT no: 164 - Renumbered 64 in 1972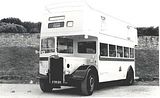 Chassis: Guy 'Arab' III
Chassis No: FD36019
Engine: Gardner 6LW
Body: Park Royal O30/26R (from April 1966)
Body no: 32957
Date into service: 6th March 1949.
164 entered service on 6th March 1949 and it formed part of the initial order for tramway replacement vehicles. Along with many others it formed the standardisation of the Southampton Corporation Transport fleet of the 1950's. Selected for conversion to open top configuration in April 1966 to replace older Mk II Arabs, and renumbered 64 in 1972, so the fleet number did not clash with batches of Leyland Atlanteans entering service. 64 together with 67 (an identical bus) was used on City and Docks Tours, before being withdrawn for preservation by the Corporation in the 1980's. 64 was used to carry Southampton Football Club (The Saints) on their victory tour of the City. The team had beaten Manchester United 1-0 on the 1st May 1976.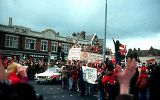 64 - FTR 511 was subsequently licensed as a private vehicle to enable it to be preserved by a group of Southampton City enthusiasts, which evolved into the 7164 preservation group and then the Southampton & District Transport Heritage Trust. 64 is still owned by Southampton City Council. Similar bus No. 167 - FTR 514 former Southampton Corporation Transport was withdrawn in 1975 from service and sold into preservation. It is kept securely undercover by its private owner.
Line drawing of No. 64  ~  Destination Blind  ~  Bus Profile for No. 64