HLJ 44
H&D No: TD895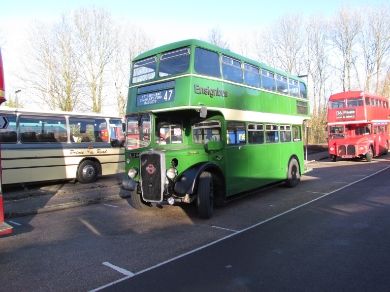 Chassis: Bristol K6A
Chassis No: 72.080
Body: ECW L27/28R
Body No: 2596
Engine:
Date into service: 1949
 
 
New in 1949, TD895 was loan to London Transport Executive, Westminster and it was based at Amersham. It was returned in March 1950 and the fleet number was changed to 1187. Withdrawn from service in 1966, TD895 was sold to Lesney. After being withdrawn from Lesney it was brought by Roy Hawkes who was a member of the Castle Point Transport Museum at Canvey Island. Roy spent a number of years restoring the bus and he eventually had it accepted for a run in the London-Brighton run. In its history TD895 spend some time at the Bournemouth Passenger Transport Association in Bournemouth.
In March 2005, TD895 was sold to Ensign Bus Company Limited in Purfleet, London, where it attended a number of rallies in Ensign Bus livery. In late 2012, Phil Blair bought TD895 and is returning it to Hants & Dorset livery. In October 2013, TD895 was on the move again this time to Crosville Motor Services in Weston super Mare.