KOW 910F
SCT No: 402

Chassis: AEC Regent V
Chassis No: 3D29A1871
Body: Neepsend H45/31R
Engine: AEC AV690 11.1 litre
Date into service: 1st December 1967
This bus was among the very last A.E.C Regent V in normal Southampton City Transport in 1981. One of thirty identical buses built in 1967 it has a 30 foot chassis and semi-automatic gearbox. The body was completed by Neepsend at Sheffield (a subsidiary of East Lancs.). Mainly based at Shirley depot (now demolished) for the busy routes to Millbrook Park Estate. 402 took part in the 'Last Regent Running Day' in September 1981. Members of the Solent Transport Trust purchased the bus and tyres from Southampton City Transport following completion of service and she was duly collected a week later. 402 was chosen as she was numerically the last Neepsend-built body before the factory closed and fully absorbed into East Lancashire Coach Builders. So it was decided she was the bus to have although any of the last Regent V could have been chosen except 401 which Southampton City Transport had decided would be keep by their 7164 group. 393 was also 'earmarked' as a replacement for earlier sold 375 as a catering bus in London. Ironically 393 is now owned by member of S&DTHT and is being fully restored.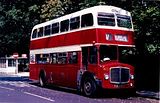 © Copyright Charnie Holden
402 was initially stored at the old gasworks in Northam, now the home of Southampton Football Club St Mary's Stadium. 402 was used on Solent Transport Trust outings but did not see much use though as the groups stalwart bus A.E.C Regent 361 - BTR 361B did most of the running. The Solent Transport Trust had a policy of buying as many Southampton Corporation Transport buses as they could rather than concentrate on one bus, this untimely saved several former Southampton Corporation Transport buses.
Then 402 was put in undercover storage in a barn at West Wellow were she languished there until 1985 when Dave Woods managed to obtain sponsorship from British Gas Southern to repaint both 402 and 361 in exchange for 'Gas adverts' and occasional use by the company. Both buses then enjoyed storage at Botley stores gas site for the next 6 years albeit open storage. 402 saw considerable use and took part in every Solent Transport Trust Running Day in the late 1980's.
What Solent Transport Trust did not know was that 402's paintwork suffered at the hands of a nearby chemical company with airborne contaminants and by 1990 it was starting to peel off in handfuls. 402 was aging laid up in 1992 this time in open air storage at Bishops Waltham at an old gas holder site. There she stayed for 9 long years and suffered damage from a JSB whilst there which destroyed the rear platform and much of the nearside front wing.
In 2001, Solent Transport Trust had their marching orders from the Bishops Waltham site so the bus had to move. At this point scrapping the bus was a serious option as she was in a very sorry state. Undeterred Dave Woods and Other Solent Transport Trust members went to the site one evening in March 2001 and put a set of batteries on the bus and started her up; as soon as she roared into life again she could definitely not be scrapped. She was driven to a new storage location in the open again.
In summer 2001, Dave Woods managed to secure yet more sponsorship from a company that he dealt with in Liverpool, The Car Superstore. So they paid nearly £8000 to have a Hants & Dorset Paint Shop at Barton Park to put in a new top deck floor and a full repaint into true SCT red and cream. 402 emerged from the paint shop looking fantastic. The Car Superstore went bust and so no sponsorship adverts were ever applied. Much work has been completed to bring the vehicle to M.O.T standard over the years. 402 was off the road during 2012, having the off side structure stripped and rebuilt. On Friday 5th April 2013, 402 returned to the road after the off side structure was rebuilt.
Line drawing of No. 402