3315 - GLJ 467N
H&D No: 3315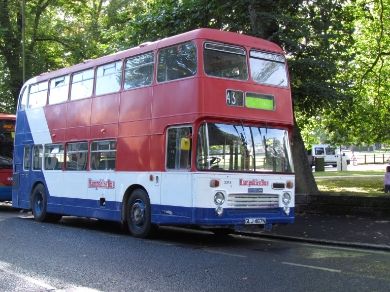 Chassis: VRT/SL2/865
Body: ECW Series 2 - H43/31F
Body No: 20531
Engine: Gardner 6LX
Date into service: November 1974
 
 
 
3315 was new in November 1974 in National Bus Company red with a white band livery to Hants & Dorset Motor Services Ltd where it was allocated to Poole depot. After spending three years at Poole 3315 moved to Basingstoke in August 1977 where it was given Venturebus brand names in September 1979. By February 1983, 3315 was painted in all-over advertisement livery for National Holidays.
On April 1st 1983, 3315 was acquired by Hampshire Bus Company Ltd and by the end of 1983 it was allocated to Winchester depot where it stayed for a few weeks before returning to Basingstoke. In February 1986, 3315 was painted into fleet livery of Hampshire Bus which was red, white and blue. On December 1st 1988 it was renumbered 315. First taken out of use on March 1989 but relicensed in December where it re-entered service at Basingstoke.
March 1990 saw 315 move to Andover depot. Hampshire Bus was acquired by Stagecoach South Ltd but still trading as Hampshire Bus on 30th March 1991. In September 1991 it was repainted into fleet livery red, white and blue showing fleet number 3315 as a preserved vehicle, where it was allocated to Basingstoke in November 1991 and then into reserve in November 1992 and the finely withdrawn on 10th August 1994.
Its life in the preservation seen started with the Bristol VR Enthusiasts Society in Lightwater on 20th October 1995. The Bristol VR Enthusiasts Society later become the Bristol VR Preservation Society in January 1997. After spending many years with the Bristol VR Preservation Society it was acquired by Black & White Motorways Ltd in March 2007. January 2012, saw the Hampshire Bus & Coach Preservation Group acquire 3315 who continued its preservation before being bought by Phil Blair in July 2013. In April 2014, 3315 was on the move again this time to Carl Ireland in Hull.
A new life for 3315 started in 2015 when it was shipped to the USA where it became a coffee bus with Junction Coffee OKC.?