318 AOW
SCT No: 318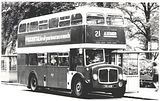 Chassis: AEC Regent V
Chassis No: 2D3RA1056
Body: Park Royal H37/29R
Body No: 47016
Engine: AEC AV590 9.64 litre
Date into service: 1st May 1962
318 was built in 1962 and entered service on 1st May 1962. One of ten AEC buses delivered in 1962 with a body that appeared to be derived from the Park Royal Bridgemaster. This was a lowbridge integral design, when placed on a conventional chassis together with re-modelling as a highbright it appeared to look 'top heavy'. It was withdrawn in November 1975. From 1962, 318 worked from Portswood Depot and covered all the Portswood routes such as 3, 4, 6, 11, 11A, 12, 13, 14, 15, & 18. In the late 1960's it transferred to Shirley Depot to work on routes 2, 5, 7, 9, & 17. It would at some time have worked all Southampton routes operating from 1963 to 1975. For the first 3 years from new it wore a largely dark red lively with two narrow cream bands, one below the upper deck window and one above the lower deck window. From its repaint it had the livery it wears now.
Sold in January 1976 and converted to a mobile home, it has been used by a local MG group and taken to Le Mans, France for the races. Based for a time at the Red Lion pub in Totton it was then last used as an annex to a restaurant in Botley. Then it was bought by an owning group of STT members for preservation it is now owned completely by Glenn Turner and kept securely in Hampshire.
In June 1991, 318 was purchased by the Solent Transport Trust then, in 2000, sold to Glenn Turner, who began the task of restoration of the converted vehicle back to being a bus. Restoration begun in August 2007 when it was towed to Ward Jones in High Wycombe where the steelwork which was corroded and replaced, spare wings fitted, cowl and number of battered panels replaced. 318 was finished in early 2010 and was at the Southampton running day in the same year. One other example of the batch survivor that being, 314 AOW which is in use as a pizza restaurant in Northern France.
Line drawing of No. 318   ~  Bus Profile for No. 318