JOW 928
SCT No: 255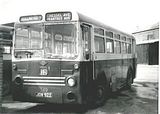 Chassis: Guy Arab/UF
Chassis No: UF71420
Bodywork: Park Royal B36D
Body No: 35218
Engine: Gardner 6 HLW 8.37 litres
Date into service: 1st May 1955
The chassis was made by Guy Motors Ltd. at Wolverhampton, the body by Park Royal at Southall, London and the engine by Gardner at Manchester. One of twelve chassis new in 1952 but with only six bodied initially. They were originally destined to provide a new type of bus service between the Town Centre and Weston Estate giving more standing room over seat places. Loading was to be made through a rear door with passengers purchasing tickets from a seated conductor. Permission to operate these "Standee" buses was withdrawn by the Ministry of Transport therefore the first batch had more seats inserted and eventually tickets were obtained from the driver which is now known as Pay As You Enter.
The second batch including No: 255 were B36D plus 18 standing. Some were sold early but four were converted to B39F in 1964. No: 255 entered service on 1st May 1955 and was withdrawn in 1968 for conversion to a disabled persons bus which gave rear access through full width double doors and a tail-lift made by Ratcliff. It provided three space for wheelchairs but fewer seats and numbered 903 in the service fleet; it was used on behalf of Southampton City Council Welfare Dept. and based at Portswood depot. It carried an all over light cream livery relieved with a narrow dark red strip.
This was the first bus purchased by the Solent Transport Trust which took place in the Spring of 1976. Over the years much work has been done: removal of the tail-lift and double rear doors, construction of a new single leaf door, seat frames repainted, seat squabs and backs recovered in new red rexine, refinishing of interior wood strips & paintwork etc. and a complete external repaint.
However due to the bus being stored out of doors for most of its time in preservation some of this work has been undone by the weather. From Spring 2001 the bus has been under cover in a new safe storage location which is being regularly financed by members of the Southampton & District Transport Heritage Trust, the successor to STT. In the Autumn of 2001 George Herd and his supporters began the next restoration in the history of 255. Nevertheless much work is needed to bring it to a usable condition and funds are always required for continuing restoration and maintenance therefore any financial contributions will be most welcome.
 

Line drawing of No. 255  ~  Standee Appeal