222 - GTR 484
SCT No: 222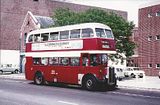 Chassis: Guy Arab III
Chassis No: FD70174
Body: Park Royal H30/26R
Body No: 33139
Engine: Gardner 6LW
Date into service: 1st September 1951
Southampton Corporation Transport brought 222 - GTR 484 in July 1951 along with another 13 buses that year. It was withdrawn in 1971. After being withdrawn from service 222 ended up being sold for preservation and languished in a field close to the Bluebell Railway at Sheffield Park in East Sussex for many years in the 1980s and early 1990s. While there 222 suffered a fire in the lower saloon.
222 was then stored for many years before being bought by Phil Blair of PB Bus Marketing Specialists who started the long task of restoring on 222. Its first outing back in the local area was at the Marwell Zoo Bus Rally in September 2010. In early 2013, 222 was bought by the 222 Group; themselves members of S&DTHT, who plan to continue the restoration on it.
In July 2013, 222 was moved for where it had been stored in Eastleigh to South East Coachworks in Faversham, Kent where work would start on the next stage of restoration. On Saturday 2nd April 2016, 222 was on display at the South East Bus Festival in Kent. The first time 222 had been on display since undergoing major restoration.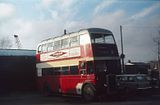 222 Move to Kent