Route 18
Today, it is a high-frequency, cross-city route connecting two of the biggest estates in Southampton, two of the biggest shopping areas outside of the city centre, and also serving the heart of Southampton, all arguably via the most direct way possible. However, this popular route has a history dating back to the 1950's, and this popular route is the 18, now operated by Bluestar.
On 15
th
December 1957, a new route was introduced in Southampton, this being route 18, which ran from Central Station to Thornhill in the far-east of the city, via the Civic Centre and Bitterne. Back then it was a joint route operated by Southampton Corporation Transport and Hants & Dorset.  

Over the years a number of buses were used on the service, including Leyland Atlantean & Fleetlines, and Bristol VRT's among others. The operations of the route passed fully to Solent Blue Line when it took over Hampshire Bus from Stagecoach in late 1987 with the route running from Thornhill to Romsey via Bitterne, City Centre, Central Station, Shirley, Rownhams and North Baddesley and this still being a conductor bus.  
In June 1990, the route was change to how we know it today with that being Millbrook - City Centre - Thornhill, with the 18 going via Shirley, Central Station, Bitterne & Bursledon Road and the 19 going via Shirley, Central Station, Bitterne and Thornhill Park Road. Both still being conductor bus thus forming a cross-city route, and taking a little under an hour from end to end.  
Aside from a few minor timetable changes and the introduction of an off-peak extension to Barrowdown Gardens with the 18A and 19A, things remained as the status quo for well over a decade apart from Low-floor buses being introduced with specific route 18/19 branding and the routes became well-known and well-used as they gained their own identity. In 2008, when plans to scrap the 19 route were drawn and in February 2008, the 19 route became no more, and all buses became 18's. This was one of a series of major changes across Solent Blue Line's network that saw all buses become branded under the Bluestar name that lives on today.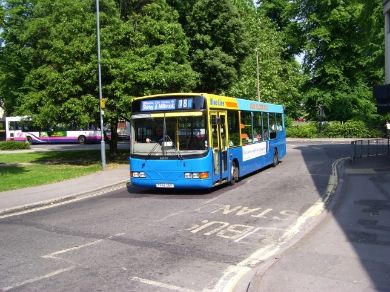 Today, the 18 is one of the most popular routes in Southampton, with buses running up to every 7/8 minutes, and operated chiefly by ADL Envior 200MMC's. With such a colourful history, who knows what lies ahead in the future for the route?