JOW 499E
SCT No: 1

Chassis: AEC Swift MP2R
Chassis No: MP2R010
Body: Strachans Pacemaster B47D + 19 standing
Body No: 40214
Engine: AEC AH 505 8.19 litre
Date into service: 1st May 1967
This bus was ordered to find a suitable replacement for the 12 ageing Guy Arab UF 'Standee' single deckers placed into service in the early 1950's. No. 1 was purchased on 1st May 1967 for evaluation, in a new livery in which pale cream was a dominant colour. The initial role of this bus was to test the practicality of operating 36 foot long buses over routes in the city in general, and particularly for the 8A Weston Estate via Woolston and Gainsford Road, Peartree, service for which they had specifically been ordered. It was first used on Floating Bridge (Southampton) to Shirley short runs for staff familiarisation and passenger reaction before a fully revised and improved service to Weston Estate on the 8,8A and 16 services was introduced on the 24 th March 1968 which involved running under a low railway bridge at Woolston.
No. 1 was fitted with a locally built Strachans of Hamble bodywork named "Pacemaster" similar to that used in London on the Red Arrow service (They were similar to the London Transport XMS class who called them A.E.C Merlin's.) also crew training was carried out and was displayed at Southampton Show that year. It was the Department's first rear engine and dual door bus. Passengers joined at the front and exited through the centre doors.
Finding no major problems, it was followed, on 1st March 1968, by five similar vehicles (Nos. 2 – 6) all build locally by Strachans at Hamble near Southampton. Unlike the others, No. 1 always kept a red roof, even after repaints and also remained unique in having a side number box. A further four A.E.C Swifts (Nos. 7 – 10) this time with East Lancashire bodies, came into service on 1st November 1969. All the A.E.C Swifts were withdrawn by April 1980.
No. 1 was sold to Booths, a Dealer in Rotherham in September 1977. In March 1978 it went to 131/134 (Battersea) Cadet Squadron, Royal Tank Regiment, London, and to 157 (Sutton) Cadet Attachment, Royal Artillery, North Cheam in 1980, and was withdrawn in August 1982.  
It was sold to a private group of Solent Transport Trust – now Southampton & District Transport Heritage Trust – for preservation in October 1986. The Solent Transport Trust collected the bus from Ashford Army Base on a November day in 1986 and towed it back to Bishops Waltham behind Priory Coaches Leyland Redline wrecker, which was considerably smaller than the bus! The only windows left in her was the offside windscreen and the internal glass panels by the centre doors. Everything else, including the lights had gone, No. 1 was bought as a job lot with Grampian Swift 56 – SRS 56K, as this bus had no engine. 56 was towed back to Bishops Waltham and was advertised for sale, rather than broken for spares as the Alexander body was in great condition. Grampian Transport bought it back for preservation! Ironically, 56 is now fully restored inside and out and resides at the Grampian Transport Museum, Scotland.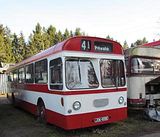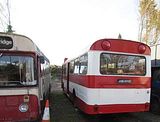 In July 2003, No. 1 was taken over by the Southampton & District Transport Heritage Trust as its second owned vehicle. It is a most interesting vehicle with very strong local origins and which is extremely worthy of preservation. Much hard work has been done to the bus over the years by members of our group and, recently, Gordon Davies, Richard Perry, Dennis Ashbee, Tom Lingwood, Matthew Saunders, Roger Parr, Terry Knappett, and others have renovated the bus to a roadworthy condition.  
On Friday 17
th
August 2012, No. 1 left the yard where she had been for many years and headed off for its first M.O.T in over 20 years. Sadly due to a few problems she did not pass but after the problems were fixed, she returned to the M.O.T Station on Wednesday 29
th
August 2012 were she gained the M.O.T Certificate. On the 29
th
September 2012, the Swift was launched by Southampton civic dignitaries. The first event we took it to was on January 1st 2013 in Winchester for The Friends of King Alfred running day where the Swift carried around 500 people on the park and ride service. An article about the Swift's restoration appeared in Bus and Coach Preservation Magazine in March 2013.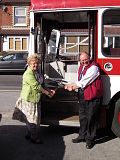 The Swift in Photos over the years  ~  Line drawing of No. 1  ~  1 OO Drawing  ~  Destination Blind
Swift Leaflet from 1967